How to turn an iPhone X into a Wi-Fi Hotspot?
You can share your iPhone's 3G or 4G data with Wi-Fi devices such as your laptop, a Mac or iPad. You can set up your iPhone a Wi-Fi hotspot and browse the internet on other devices at home or on the go. Wi-Fi hotspot can be very useful in certain situation. Suppose you are travelling and you have iPhone and other Wi-Fi only device and you have to do some important work; you can just turn your iPhone into a Wi-Fi hotspot, connect the other device and accomplish your work comfortably on your device with a larger screen. You can set up a personal hotspot on your iPad, iPhone X, iPhone 7, iPhone 8 and also on other models.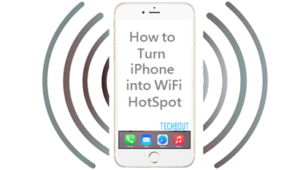 Like a Wi-Fi router in your home, Wi-Fi hotspot on your phone turns your iPhone into a Wi-Fi router. The iPhone uses its 3G/4G cellular data connection to connect to internet and then broadcasts it through Wi-Fi and you can connect your device.
How to create an iPhone hotspot?
It is very simple to create a hotspot on your iPhone. It is recommended that you check terms and conditions of your contract. You also check your data allowance and data cap; exceeding it may make you pay extra. You also have to keep in mind that if you have limited data allowance, you use Wi-Fi hotspot for short time only and if it is really needed. Follow the steps given below on how to create a hotspot:
Launch the Settings app on your iPhone, and then select Mobile Data.
Set personal hotspot to on by tapping on Personal Hotspot.
You have to keep Wi-Fi and Bluetooth options on your iPhone 'On'; if Wi-Fi and/or Bluetooth options on your iPhone are off, the iOS will ask if you want to turn them on.
Tap on 'Wi-Fi Password' and enter an appropriate password; it is different from your iPhone password.
Check that name of the hotspot is listed under 'To Connect'.
To use Wi-Fi on your other device, tap Wi-Fi on an iPad and select Wi-Fi hotspot. Enter the password you have created. You can now browse internet on the device.
More Related Queries: