Tamatanga.com: Indian Restaurant in UK
Tamatanga is a new Indian restaurant in Birmingham, a branch of popular restaurant Tamatanga over the years in Nottingham city in UK. They serve delicious fresh food made from local ingredients in their kitchens. They add freshly hand grind spices to the food. Tamatanga Birmingham has hired expertly trained chefs; they cook the food in clay oven. Each dish is prepared according to the order. You can choose from main menu, daytime deal, Christmas menu, party time menu, vegan menu, gluten free menu, dessert menu and drinks & triples. You have a great variety to choose from. From Monday to Thursday, it serves meal at £9.95 per person.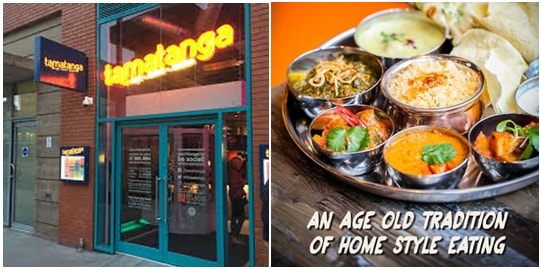 You can enjoy the real Indian taste with good music and nice surrounding. You can have breakfast, lunch and dinner. The atmosphere is buzzing in the evening! They have got highchairs for baby and baby-changing facilities for the little ones. They also provide crayons, colouring and balloons for the kids to make them engaged and have fun! They also have kids menu!
Tamatanga Birmingham Location
The hotel is located at Orion Building, Navigation Street, Birmingham, B5 4AX.
Tamatanga Birmingham Booking
You can book a table at Tamatanga Birmingham online at https://www.tamatanga.com . It is simple to make booking. You can also go without booking, but you can always book a table in advance if you want. Booking can be done for a group of five or more only on Friday and Saturday evenings after 5.30pm. You just click the tab 'Book' displayed on right of the top navigation bar. Select the date and time, provide your credit card details to secure your booking. If you don't show up on the event or cancel your booking, £5 per person will be charged.
Tamatanga Birmingham Opening Times
Tamatanga Birmingham opening timings are Monday to Thursday 11:30am to 10pm, Friday- Saturday 11:30am to 11pm and Sunday 11:30am to 10pm.
If you are in Birmingham, you can definitely enjoy fresh, fabulous and flavoursome real Indian food at Tamatanga!