Proof of Insurance – Everything You Need To Know
Proof of insurance (POI) is a document that you can provide it to another person or authority as a proof that you have valid insurance with an insurance company. POI is a record that shows that you have met your state's requirements for vehicle insurance as well as financial responsibility laws. By Financial Responsibility law, you are required to have minimum car insurance coverage. This is required to prove that you will be able to pay if any property damage and physical injuries takes place. Each state has its own specific minimum coverage requirements and may vary from state to state.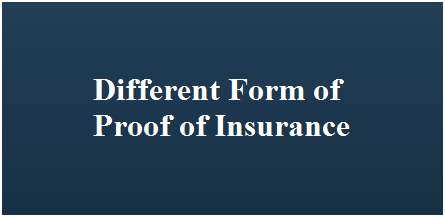 POI is very important document regarding your vehicle insurance. Car insurance is very tricky; following explained is some of the important information regarding proof of insurance.
Different Form of Proof of Insurance
Usually POI is provided in the form of a paper card from the insurance company known as an insurance identification card and contains brief detailing of policy and effective dates.
As a proof of insurance, you can also show one of the following documents other than insurance card.
A copy of the declarations page known as the "dec page" issued by your insurance provider when you purchase insurance for your vehicle. Usually you receive the declaration page along with your insurance card from the insurance company.
A copy of the insurance binder is a document signed by the licensed insurance agent or broker as a temporary proof for insurance purchased by you. You can use it as a proof of insurance until you receive permanent insurance card from the insurance company.
A copy of a letter from the insurance company that include main details about your insurance coverage. If this letter is on the letterhead signed by authorized person from the company, you can show it as a proof of insurance.
An electronic view of your insurance coverage details can also be used as a proof of insurance. You can login to your online account with the insurance company and show it.
Information on Your Proof of Insurance
Your proof of insurance must include the insurer's personal information such as name, birth date, contact address, information of the vehicle insured such as model of the vehicle, year of making, date of purchase etc., insurance policy details such as insurance provider, policy number, insurance coverage, renewal date etc.
When do You Have to Show Proof of Insurance
Following given are the circumstances when you will need to provide your proof of insurance.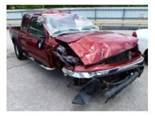 You are involved in an accident: If you happen to meet an accident and if you have insurance, you can file a claim for it. When you file a claim, you will to provide proof of insurance to the insurer.
Renewing your license plate: If you renewing your license, it is mandatory to show your proof of insurance to the Secretary of State.

A police officer asks you to present it: If you are pulled over for moving violation, you will be asked by police officers on duty to produce proof of insurance. In case of failure to do so, you might be asked to pay fine.
Driving Test: When you take a driving test, you will have to show proof of insurance. In most of the states it is compulsory.
Register your Vehicle: When you get your vehicle registered, you will be asked to present your proof of insurance.
What happen if you don't have proof of Insurance?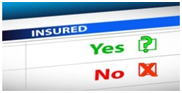 As proof of insurance is a proof of your financial responsibility, you will have to go through penalty if you don't have proof of insurance. Penalties can include fine, suspension of your vehicle registration, suspension of your driver's license or even a jail sentence. You always have to keep in mind that financial responsibility violations tend to cause higher than average car insurance premiums.
Alternative Methods to Financial Stability/Proof of Insurance
Most people prefer an insurance policy to cover their financial responsibility; in certain states you get other options to a standard insurance policy. Alternative methods of maintaining financial responsibility usually can be a surety bond, cash or securities, or self-insurance. Even in a few states, you can pay an uninsured motorist fee to drive legally without opting for auto insurance. Alternative options are not easy; in fact you need large amount of money available with you. Following discussed are the options.
You can buy a surety bond with a surety company approved in your state. It is a state specific and every state doesn't have it. With surety bond, you owe the full bond amount if you meet an accident and need to cover liability costs for the damages done. Here the company acts as a guarantor and assumes the responsibility for the debt. This option is quite beneficial to businesses having fleet of vehicles.
You can put a large state deposit with the state treasurer from $25,000 upwards. The amount varies for different states. You have to do home work and find out about it.
In either case, you will be issued a certificate of your bond or deposit. You will have to keep it with you as proof of insurance.
If you compare, buying car insurance is downright an easy option and your savings is also not at risk. You opt for the best priced car insurance policy, pay required premium and cover your car with coverage you want. There are different coverage options you can consider such as collision coverage, comprehensive coverage etc.
Conclusion: Proof of insurance is very important. It is very easy to get it from an insurance company when you apply for it. The only difficult task is to choose right provider. You can get quotes from various potential providers and choose that meets your coverage requirements. Purchase insurance for your car and get proof of insurance at the earliest as a record to show you fulfill financial responsibility.