Best Options and Reviews on Private Student Loan Companies
Largest Private Student Loan Companies/ Lenders: You have to pay high fees for graduate studies and usually you don't get federal financial aid such as Pell grant for it. You have to think of other options to work out your education expenses. If you get high grades in your undergraduate studies and qualifying exam, you might get some scholarship; you don't have to repay the money. You can work during your vacation or do some part time work and save some money that can help you pay towards your education expenses. Another option, you can consider is student loan. Here we will discuss on private student loan options to get fast and flexible credit.
Student Loans

If you find it difficult to cover your college expenses, you apply for a loan. Your education expenses include college fees, books, accommodation etc. You can apply for federal student loans. Federal loans don't consider borrower credit. These loans are offered with income based repayment plans; it is likely that you can get forgiveness. A flat interest rate applies for such loan and it is usually not much high. Amount of Federal student loan limited by several factors. Unsubsidized Stafford loans are the most common federal student loan.
Grad PLUS loans for graduate and professional students which are offered with no borrowing limits. In order to qualify for this loan, you need a decent credit and your credit report has no negative remarks on it
If amount of federal student loans you receive don't cover your costs and if you can't manage to get federal loan, you may have to take up private loans. You will have to pay high interest rates in comparison to federal loans; usually it is determined by your credit worthiness. You also require a co-signer to get the loan approved.
Private Student Loan, Benefits and Risks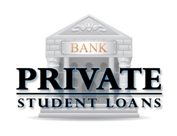 When you opt for a private student loan, you should consider certain factors. You can choose from fixed interest rate or variable interest rate. For fixed interest rate, the rate will remain same throughout the repayment period. In case of variable rate, it may increase or decrease over the period according to market conditions. It is recommended that you look for borrower protections; it is better you go for flexible repayment plans. You might get the option to defer your payments if your financial crunch demands.
If you can't pay back loan in specified time, your interest rate may go high. The lender might not defer the loan if you lose your job.
Private student loans are to be repaid once you graduate. The loan repayment is a daunting task and it may have negative impact on your living for some time. You should consider taking up student loan as the last resort. You can transfer to less expensive college or work part-time to meet expenses.
How to Apply for the Student Loan
You have to apply directly to the lender for a private student loan. You need to study and understand terms and conditions of the loan as federal government does not regulate it. Some of the lenders offer a small grace period after graduation, whereas others do not. If you don't have a credit history or good credit score, it needs to be co-signed. If you want to get help about whom to approach for the loan, you can approach aid office in your college.
If you need finance to cover your graduate study expenses, you can take up private student loan from reliable provider and complete your education; you make sure that you have understood the terms well and you check your expenses!
More Related Queries: