Ocean Finance Credit Card Eligibility Checker Online
Ocean Credit Card is a credit card that comes with credit limit of £1,500, with no annual fee. The card is issued by Capital One. You can get the credit card if you are eligible for it. You can apply fro the Ocean credit card online. You can get pre-application check done through credit reference agencies at www.checkocean.co.uk. Ocean bank credit card eligibility criteria checker won't affect you credit rating.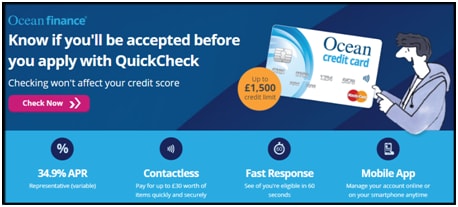 You can access your Ocean cedit card account on your mobile app anytime anywhere. You can make contactless payment of up to £30 worth of items quickly with the Ocean card. You will get email text alerts on any transaction made using the card.
Eligibility to apply for the Ocean Credit Card
You are 18 years of age or above it.
You are registered on the electoral roll
You have a good credit history.
Quick Precheck
You can check Ocean credit card eligibility to see if you qualify for Ocean credit card before you apply. It won't have any impact on your credit rating. It performs a 'soft search' only meaning no one else would see this on your credit report unlike a hard search. Following given are the steps on how to precheck:
Go to www.checkocean.co.uk
Visit 'Check Now' button displayed in green on middle of the screen.
Enter your personal details, address, contact, employment and financial information as instructed. Go to 'Check Now' button.
It will check with the credit agencies and you will be notified about the decision. You will get the quick decision. You can get credit limit anywhere between £200 and £1,500; the amount offered is decided based on your personal and financial information. It also does credit limit reviews twice a year and your credit limit can be extended. If you are approved, you will receive the Ocean credit card through mail. It will take about 7 to 10 days for the card to reach you.
Access Your Ocean Credit Card Account online
Once you get your Ocean Credit card registered and activated, you can access your credit card account online. With an online access to your credit card, you can enjoy several online services. You can view your statements, browse transactions, check your balance, and contact Capital One through secure messages and more. In order to access your credit card account, you need to sign in to your online banking account.
Pay Your Ocean credit Card Bill
You can pay your Ocean credit card bill in several ways. Given here are the details on how to make payment:
By Direct Debit
You can pay through your debit card. It is safe and simple. Yo can also set up auto debit and every month the payment will be made automatically on a specified date. In order to set up a Direct Debit, you just sign into your account, click 'Pay Bill' and select the option 'Set Up/Amend Direct Debit'. Complete the process following instructions given.
Through Mobile App
To pay through mobile app, sign in to your account, select 'Pay Bill' and enter the amount you want to pay. You will have to provide credit/debit card detail to make the payment. You can save your details to make your future payments easy.
In-person at a bank
You can go to any UK bank and make payment. You need to present your statement along with the payment slip.
Internet banking or telephone banking
You can login to your online banking account and make your credit card bill payment to Capital One bank from your account with the bank. The payment will be reflected the same day if the payment is made before 5.30pm, otherwise it will be made he next day.
For more information about Ocean bank credit card eligibility criteria checker, you can visit the website www.checkocean.co.uk.