Royal Nawaab Birmingham
You can enjoy the authentic taste of South Asian food at Royal Nawaab Birmingham restaurant; here we will check Royal Nawaab Birmingham Pirces, Postcode, Opening Hours and Reviews. The Nawab Buffet is a 100% Halal restaurant which serves exotic food in great surroundings. You will find a perfect blend of a culture, a tradition and a standard in culinary tastes at the restaurant.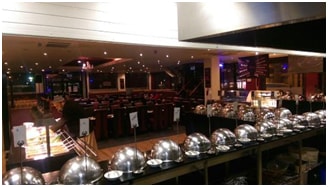 Nawaab Buffet Birmingham
The staff at the Nawaab Buffet Birmingham is very friendly and professional. They also have Banqueting Suites and Wedding venue. You can plan party, wedding or family gathering at the Royal Nawaab Birmingham. They also provide event catering. In 2017 Nawaab Birmingham decided to bring this unique Buffet Restaurant experience to Birmingham, which is now the home of Nawaab.
The Royal Nawaab Buffet Restaurant is one of the popular restaurants in Bradford since its opening in 1988 and then subsequently in Manchester. They have opened the restaurant in 2017 only and has widely acclaimed for its real traditional food with best cuisine.
Royal Buffet Birmingham Location and Opening Hours
Nawab Buffet Birmingham is located at 238 Highgate Rd, B12 8EA. The restaurant remains open from 17:00 to 23:00 all days. It remains open for more time during Eid.
Royal Nawaab Birmingham Prices
Royal Nawaab Birmingham Prices for the entire buffet selection including unlimited soft drinks is £16.00 for adults and £8.00 for children; little ones of the age up to 3 are admitted for free.
Contact for Booking and other inquiry
You can book a table in advance for a group of 10 or more people. For booking or any other inquiry, you can call the restaurant team at 0121 773 0030, for banqueting and events inquiry, you can call at 0121 753 1066. You can also send an email to [email protected]
If you are in Birmingham or have a plan to visit there, you can enjoy the best culinary experience at Nawaab buffet Birmingham Restaurant. You can share your experience and review on Nawaab Birmingham in below comment box.