Birmingham Women's Hospital Fertility Clinic: www.bwc.nhs.uk
Birmingham Women's Fertility centre is a NHS based specialist fertility clinic in Birmingham which provides a full range of services related to infertility which include diagnosis of infertility, assisted conception treatment and pre-implantation genetic diagnosis as well. You are provided with counselling and guidance at every step of the infertility treatment. They treat self funded and NHS funded patients which even include same sex couples and single women. You can check more details on the official website www.bwc.nhs.uk.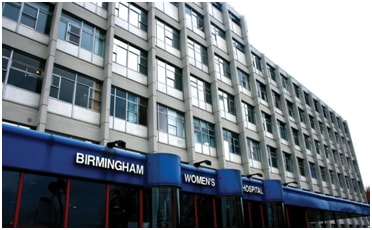 Birmingham Women's Hospital Fertility Clinic also has a Spermbank. Sperm donors and egg donors can donate at sperms and eggs to the Spermbank. They even offer reduce treatment costs for women who share egg.
Costs and Funding
Being an NHS hospital, the Birmingham fertility clinic offers consultations and diagnosis to all patients for free. They offer NHS funded fertility treatment to those who qualify for it, others have to pay for it. Clinical Commissioning Group (CCG) based on the criteria specified decides on whether a patient is qualified for NHS funding for the treatment. To be treated at this clinic, you need referral from your GP. You can check with your GP if NHS funding is available in your area. You can find cost for different treatments at http://www.bhamivf.org.uk . When you visit the clinic, you are also provided with a list of charges for different treatments. If you are funding yourself for the treatment, you will be required to pay at consent signing appointment before te treatment is started.
Birmingham Women's Hospital Fertility Clinic Appointment
In order to take the appointment fertility investigations/treatment, first you need to talk to your GP or Consultant and send a referral letter from her/him at the address: Appointments Centre Booking Office Birmingham, Women's Hospital Edgbaston Birmingham, B15 2TG.
The first appointment given is in the outpatient department; a fertility specialist will consult you. They will make the investigation and determine the cause of your fertility issue and suggest the most appropriate course of treatment for you. If needed, a sperm test for sperm analysis will be asked prior to the first visit so they have the results of the test with them before the consultation. Once your treatment plan is charted out, your appointments will be scheduled to attend the Birmingham Women's Fertility Centre to arrange your treatment.
Customer Support
If you have any inquiry for ongoing treatment, you can call at 0121 627 2700. For more information, visit the website www.bwc.nhs.uk or www.bhamivf.org.uk.