Belfast International Taxi: Belfast International Airport Taxi Cost
Belfast International Taxi: CostThere is several means of transportation to reach Belfast International Airport including bus, coach, taxi, etc. You can hire a taxi at the airport to go to places. Here we will discuss Belfast international airport taxi costs and how to book taxis online.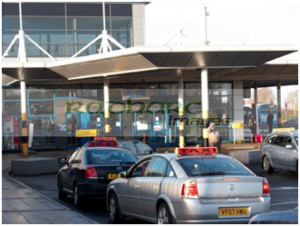 The International Airport Taxi Company operates taxis for the Belfast International Airport 24 hours a day 7 days a week. Taxis for hire are available from the outside area of the right-hand door of the airport exit lobby. You will find a list mentioning taxi fares on display right in the exit hall of the terminal building. It is not that you can get the service from the airport only; you can be picked up too from your destination to the airport and other places.
The taxi services from the company provide transport facilities for conferences where transportation is arranged from the airport to the conference venue. Tour services are also offered; visitors can organize their own routes and destinations without time constraints. Tours to the major tourist sites are also available. The company also provides express courier and document delivery services. The services include an executive arm where you can travel in a luxury vehicle.
A wide range of cars is available on hire which includes estate cars, executive cars, and a carrier fleet of vehicles to choose from. It is much simple to book a taxi. No waiting charge is taken in the event of a delayed flight. You can book taxis online at www.belfastairporttaxis.com or call the booking office at +44 (0)28 9448 4353. A taxi sharing facility is available too.
How to book Taxi online
Follow the steps given below:
Go to www.belfastairporttaxis.com
Click on the menu option 'Online Booking'.
Enter the travel details in the space provided and click on the 'submit' button.
The taxi services provide call back and text service on arrivals.
Belfast International Airport City Center Taxi Cost
It is a 30 minutes journey from Belfast International Airport to Belfast city center by car. There is a taxi rank beside the bus stop. You can hire a taxi from there to Belfast city center which costs around £31. The travel distance is 18 miles.
Cost of Taxi from Hollywood to Belfast International Airport
The distance from Hollywood to Belfast International airport is 22 miles and takes around 30 minutes to reach. All the taxis are fitted with meters and you have to pay according to the meter reading. It may be around £30 – £40. Read more articles on lookup.
More Related Queries:
Taxi from Belfast International Airport
Taxi fare to belfast international airport