ARI Hospital Phone Number, Visiting Times, Appointments, Jobs and Shuttle Bus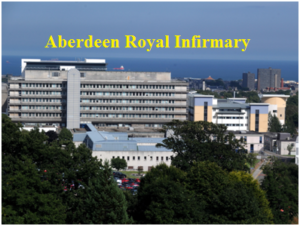 Aberdeen Royal Infirmary, ARI is the largest hospital in NHS Grampian that works with the mission of improving the health of people in the North East of Scotland. The hospital is located on the Foresterhill in Aberdeen ARI. The hospital serves above 600,000 people in the area and has about 900 inpatient beds. All medical services and specialties are offered by the hospital. It is employees around 17,000 staff members. Aberdeen royal infirmary phone number is 0345 456 6000. Here we will discuss on ARI hospital visiting times, appointments, jobs and shuttle bus service.
Aberdeen Royal Infirmary Shuttle Bus
NHS Grampian provides free shuttle bus services for the hospital staff, patients and visitors. Bus number 1, 2 and 4 runs from ARI to Woodend via Summerfield House, bus number 3 runs from ARI to Health village via Cornhill. Bus number 5 is a floating bus which can be requested anytime between 9:30 to 17:30. The buses run every 10 minutes between 6:40 to 18:45.
Aberdeen Royal Infirmary Visiting Times
ARI offers flexible visiting times. Visitors have to keep in mind need and suitability of the patient and his family. It is recommended that you keep the noise level down and advised not to visit if you yourself are unwell. You should also avoid taking little children to the hospital.
Aberdeen Royal Infirmary Appointments
Patients have to take an appointment for outpatient clinic at Aberdeen Royal Infirmary. The NHS takes care that patients get timely medical attention and treatment and offers a quick appointment. It is taken care that no patient will have the waiting period of more than 18 weeks.
You have to make a request for an appointment. You are provided an appointment card containing details of clinic, date and time. You reach the clinic and show your card to the reception, the receptionist will check your identity. A specialist attends you at the clinic. If needed, another specialist is referred.
Aberdeen Royal Infirmary Job Vacancies
Jobs at Aberdeen Royal Infirmary offer friendly work environment, competitive pay and growth opportunities. It recruits staff from time to time. To apply for the jobs at Aberdeen Royal Infirmary, follow the steps given below:
Go to website at www.nhsgrampianjobs.org/apply.html 
Click on 'View our current vacancy and apply'
Applicants who are currently employed with ARI have to click on 'External Vacancies', others have to click on 'Internal Vacancies'.
A list of vacancies will be displayed. If you are interested in any of the vacancy, click on the 'Apply' icon displayed next to the job listed.
An application form will be displayed, fill up with necessary information and click on 'Register' button.
More Related Queries:
Aberdeen Royal Infirmary Hospital Phone Number/Visiting Times/Appointments/Jobs/Shuttle Bus