What is Face ID and how do I use it?
Use Face ID in iPhone X; it is the latest technology used to unlock your mobile. It is a facial recognition technology employed in latest release iPhone X from Apple. When you look at your mobile, it scans your face and unlocks it. Model X is the latest release from Apple which includes new features such as Face ID, edge-to-edge display and wireless charging. Here we will discuss on why iPhone X face ID not working or failed?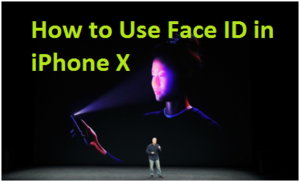 Apple's Face ID is a biometric replacement for Touch ID and is very accurate and secured. Apple claims that there hardly remains one in million chances that person's face can unlock your iPhone. The iPhone has seven different sensors attached to its front-facing camera which scans your face automatically and confirms your identity. With this feature, there is no need to press Home button and Apple has removed it in iPhone X.
The top of the iPhone X, known as notch comprises of several components which include a flood illuminator, IR camera and dot projector along with proximity sensor to provide for accurate facial recognition.
Face ID makes use of multiple neural networks built into its bionic neural engine which processes data for facial recognition. The face image created is matched with original stored scanned image of your face when it was first registered. In order to unlock your phone, Attention Awareness is required meaning you have to look straight at it; you can't look away.
How to Set up Face ID on your new iPhone X
You need to set up Face ID on your new iPhone X. It is an impressive feature and you can do many things with it.
Go to Settings.
Tap on Face ID & Passcode. Enter your passcode.
In the Face ID section, tap on 'Enrol Face'.
Tap on 'Get Started' and follow the instructions given.
You position your face such that it fits in the on screen frame and move your head around. Your face will get scanned and registered.
Accessibility
Individuals with physical limitations, blind person or person having low vision, can select 'Accessibility options' during enrollment. It doesn't require for full range of head motion but need more consistency when you look at the iPhone.
More Related Queries: