Bariatric Surgery Pros and Cons
You might be one of the millions who is obese and tried conventional method to lose weight, but have failed. You don't worry, you can think of bariatric surgery for weight loss which has proved very effective and safe. It has long time effect and can help you stay away from obesity related. There are many benefits of the bariatric surgery, but you must be aware of bariatric surgery pros and cons before you decide to go through the surgery as an option to weight loss.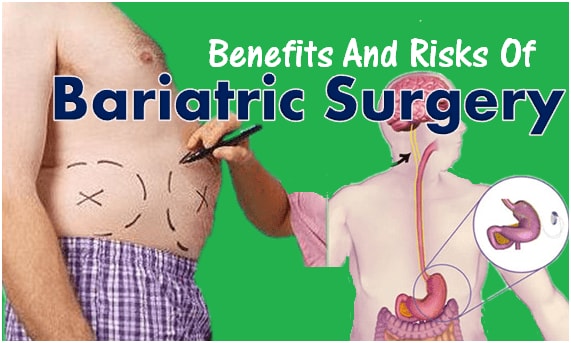 Pros of Bariatric Surgery
You know that the main benefit of the bariatric surgery is to lose excess weight, but we can say that still greater benefit is that you get improved health also improve your health conditions if you are suffering from health problems such as severe arthritis, high blood pressure, diabetes, sleep apnea etc.
It also reduces the chances of having diseases caused by excess body fat. So, you can go to the extent of considering the bariatric surgery as life saving procedure. Report says that 95% of the patients who have gone through bariatric surgery have found improved health conditions.
Weight Loss Surgery Benefits: You can summarize the weight loss surgery benefits as:
It is very effective and long lasting treatment to get rid of morbid obesity.
You lose weight rapidly.
You will improve on your physical work and feel comfortable.
You improve on health related problems; you might get rid of some of the health problems.
You will lead improved quality of life and your self-esteem will be better.
You will have healthy longer life.
Cons of Bariatric Surgery
With all the benefits, there are always some risk factors associated. There are hardly 1% of the chances of complication to take place. To make the risk factors minimal, you make sure that your surgeon is experienced with many surgeries and has high success rate.
There are four common types of bariatric surgery optionsGastric sleeve, Gastric bypass, adjustable gastric band and duodenal switch. Each type has its pros and cons. You have to make comparisons of different types of surgeries and then choose the right one for you. What type of the bariatric surgery, you should opt for also depends on your weight loss goals, your medical history and your health related conditions. You have to discuss all these with your doctor.
Disadvantages of the bariatric surgery: The general disadvantages are
You will have to change your life style.
You will feel loss of hunger.
You will have to exercise regularly to maintain weight loss.
You will need to take supplementary medicines.
Risk factors associated with bariatric surgery
Less than 10% of the people have complications after surgery such as:
You might feel Nausea, vomiting, diarrhoea etc.
You might develop wound infection.
It can develop abdominal hernias.
Less than 3% of the patients suffer from serious complications such as
It can develop pulmonary embolism.
There might develop a leak in the surgical guts connection.
It may cause bleeding ulcers.
It might lead to heart attack.
So, if you are morbid obese person and wants to consider this surgery then understands pros and cons of bariatric surgery and take right decision. You may read more useful articles on lookupin.co.uk.