How to Find My Lost Account Details with mylostaccount.org.uk
Mylostaccount.org.uk is a single online search platform that helps trace lost bank and building society accounts and lost National Savings and Investments products. Your application will be sent to the concerned institute.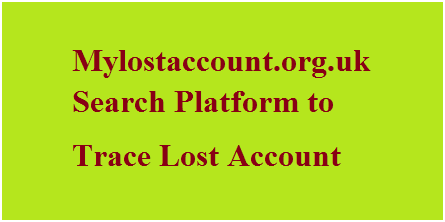 If you have lost an account with bank, building society or National Savings & Investments account, you can trace it with the 'My Lost Account' service at the website for free. Usually, banks, building society or NS&I contact customers if an account has remained inactive for a longer period. But if no customer response is received, these institutions classify the accounts as lost accounts with a view to prevent ID theft and fraud.
My Lost Account service helps you trace lost personal accounts even if you are not sure of which institution holds the account to which you have entitlement. The service covers three tracing of UK Finance (UKF), National Savings and Investments (NS&I) and the Building Societies Association (BSA).
How to Find My Lost Account Details
To trace your account, you need to fill up an application form online. The information provided in an application is securely passed to the concerned institution; the institution then will carry out the search and the applicant will be notified wether they have found match for the details provided in the application or not. For security reasons, the applicant will ask for identity of the applicant and legal entitlement to the account money. You need to set up your profile before you can initiate search. Follow the steps given below on how to initiate the search:
Go to www.mylostaccount.org.uk
Visit the link 'Start search' displayed on top navigation bar.
Go to 'Begin Search' button displayed in magenta on lower right of the screen.
Select Yes or No option given below 'Do you have an active email address?' Click 'Next' button.
Enter your email address, create your password and confirm it. Click 'Register' button.
You will receive a verification link in your email. Click the link to verify your account.
Provide required details such as name, date of birth, current contact address, previous address and account details following instructions given. Provide as many answers you can to the questions as it will help with your search.
Verify the details you have provided and submit the application.
On submission of the application, you will receive a confirmation email containing an application number. The financial institution you have selected will make a search and will send you an email alert when completed that update is available on your profile. Usually, you get response from the institution within 90 days. You can check status of the application anytime by logging in to your account.
You can also download the application form from the website and fill it up.
For more information, you can refer to the frequently asked questions, FAQ at www.mylostaccount.org.uk.
More Related Queries: