Make Bootable Pen Drive to Boot Your Computer
Make Bootable Pen Drive to Boot Your Computer: A bootable pen drive is very handy when you are to boot your computer or laptop externally. By booting from a removable drive, you can perform diagnostics on your device having trouble booting from the hard disk.
You can make your pen drive bootable easily for your Windows XP, Windows7, Windows 8, Windows 10, Windows Vista etc. You just need to ensure that the computer you want to boot using your flash drive is capable to boot from USB drive.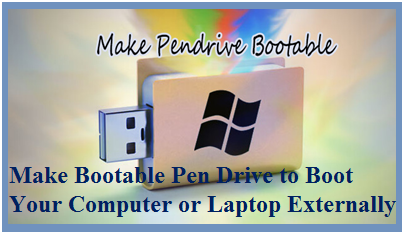 You can check whether your computer is capable of booting form USB drive by accessing BIOS of your computer. You check the list of bootable device in the BIOS. If you find USB drive in the list, you set it as first boot device.
Here are the steps on how to make your pen drive bootable:
Bootable USB drive for Windows
In order to save required files for making bootable drive, you need a pen drive of the size at least 4 GB. It is also recommended that you take back up of all the files on your pen drive as it will be formatted during the process.
Plug in your USB drive.
To open command prompt window, type cmd in the search field of Startup menu of your windows. Then enter Ctrl+Shift+Enter. OR From the Start up menu, click on Accessories, right-click on the command prompt, then select Run As Administrator.
Enter the command DISKPART and press Enter. Then type the LIST DISK command.
A list of disk drives connected to your computer will be displayed. Find number of the USB drive to which you have plugged in pen drive for making it bootable. Note down the drive number or dive letter of the USB drive. Type SELECT DRIVE [DISK #] where DISK # is the number of your USB drive.
Type in commands as given below:
           CLEAN
           CREATE PARTITION PRIMARY
           SELECT PARTION 1
           ACTIVE
           FORMAT FS = NTFS
           ASSIGN
           EXIT
Insert your installation DVD in your computer's DVD drive.
At the command prompt, enter the command [DVD drive #] CD BOOT. Again give the command CD BOOT. Then give the command BOOTSECT.EXE/NT60 H:
Go to My Computer. Right click on the DVD drive, select Open. Copy all the folders and files to the pen drive.
The USB drive is now ready as bootable USB drive for Windows Vista or 7. Read more articles on lookup.
More Related Queries:
Make Bootable Pen Drive to Boot Your Computer