Birmingham City Council Repairs: Birmingham CityCouncil Repairs Phone Number
Birmingham City Council Repairs: Birmingham Council is dedicated to its residents and takes care that they don't run into problems. If there arises any problem, they do their best to fix it. Here we will discuss Birmingham Council Repairs Complaints.
The council is responsible for arranging repairs for problems affecting the structure of the building or shared areas of the building. Leaseholders involved are required to pay some of the repair costs.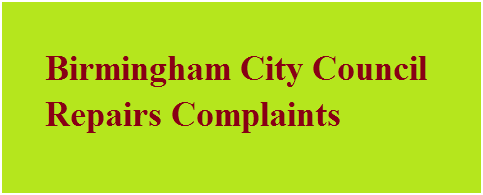 The council arranges repairs which include washers/main stop valves to the block, repair leaks to the main soil stack, rainwater pipes or gutters, clear blockages, exterior of the building such as window frame, roof repairs, damp-proof membrane, shared service pipes, communal staircases, windows, decoration, doors and entrances, repairs to burst or leaking pipes outside the property and more.
You can refer to the council guides for finding what repairing the council is responsible for.
Types of Repairs
Birmingham Council does two types of repairs: day-to-day repairs and major repairs. If the leaseholder's share of the cost of a repair is more than £250, it is called a major repair. If a major repair is carried out by the council, you will receive an invoice on completion of work. For the day-to-day repairs, your share of the cost is charged to your annual service charge bill.
How to Make Repairs Complaints
To order a repair, you have to fill up the online form. Following given are the steps on how to make the repair complaints:
Go to www.birmingham.gov.uk/info/50003/council_home_repairs_cleaning_and_maintenance/
Visit the link 'Order a Repair' displayed in the blue box on the screen.
Select the section of the repair.
Go to the 'Order a Repair' button.
Fill up the form providing the details required following the instructions given and complete the process.
Emergency Repairs
Emergency repairs such as no electricity, no hot or no cold water, burst pipe or severe leak, no clean drinking water, and unsafe electric fitting demand emergency repairing and needs to be fixed quickly. In such cases, you don't need to fill up an online form. You just call 0121 216 3330; people who are deaf or hard of hearing can call 0121 675 8221.
If you have any repair complaints with Birmingham Council, report them immediately to the council and get them fixed; so no major problem arises. For more information, you can always refer to the website www.birmingham.gov.uk. Read more articles on lookup.
More Related Queries:
Birmingham city council repairs phone number