Car Hire Birmingham Airport UK: Birmingham Airport Rental Cars
Car Hire Birmingham Airport UK: If you are looking for a car to rent at Birmingham airport, there are several companies that offer cars with pick-up and drop-off services with a large fleet of vehicles. You can go to the rental companies desk at the airport or search and book car online.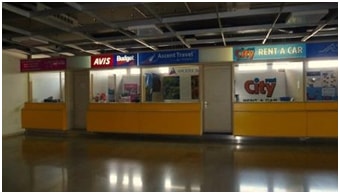 Birmingham is a shopping paradise, business hub and has lots of tourist attraction. A large number of people visit Birmingham. Many of them prefer car rentals.
Some of the Birmingham airport rental car companies are given below:
Hertz
Hertz offers cars and vans on Birmingham airport rental for a day, long term, for business etc. Car rent starts from £12 per day. They offer the best price guarantee and if some other company is offering at discounted price, they will pay the difference. You can search for a car for rent at www.hertz.co.uk/p/car-hire/uk/birmingham/birmingham-international-airport.
You just enter the pick-up date & time, drop-off date & time, and click the 'Search' button. A list of available car options will be displayed. You can book a car for a rental by selecting a vehicle from the list. You can either pre-pay for the rent or pay on location when you pick it up. For most of the cars, you are offered a discount when you pre-pay.
Up to two days before collecting the vehicle, if you amend the booking or cancel the booking, no amendment or cancellation fee applies. If you want to make any inquiries, you can call +44 (0) 843 309 3005.
Budget
www.budget.co.uk is an industry leader in providing car rental services. The company offers car and van for rentals at Birmingham airport. You can search for a car or van online. You can get a quote online. You can book the car, manage your car booking and cancel the booking if the need arises online.
You just provide your rental requirements which include location, pick-up date & time, drop-off date & time, and choose a vehicle to book it. The minimum age to rent a car with them is 23 years.
Sixt Car Hire
Sixt offers car rental services pick up & drop off at Birmingham airport. The company is well-known for the vehicle rental and provides its services in 105 countries worldwide. www.sixt.global is the official website of the company.
The company offers a range of cars on rental for you to choose from which include standard car to luxurious cars. You can book a car online. You just select the car from the available list and provide the pick-up time & date, and drop-off time & date to book it. Online booking provides you with car rental at a discounted price.
Avis
Avis provides car rental services with pick-up & drop-off facilities at Birmingham airport. The pick-up facility is offered between 6:30 to 23:99 on all days of the week except Saturday on which pick-up timings are 6:30 to 23. They have a 24-hour drop-off facility. They offer cars, and small, medium, and large vans.
Avis vans come equipped with rear parking sensors and cruise control for a relaxed driving experience as well as a multi-function display and USB ports. Whether you are on a family adventure or a work trip, you will have the best vehicle to make your journey comfortable. You can search for a car on this website to find the right car to suit your needs. You can book a car online at www.avis.co.uk.
Enterprise rent-a-car
You can rent a car with Birmingham rental pick up and drop off services with the enterprise-rent-a car. It has long opening hours and offers flexible pick-up timings. You can book a car for Birmingham airport pick & drop off online at www.enterprise.co.uk/en/car-hire/locations/uk/birmingham-airport-u224.html. You can book a car online by providing pick-up and drop-off times.
If you have a promo code, you can apply to avail the discount when you make reservation. You must be of age 25 or more to rent a car from them.
Europcar
You can hire a car and van at Birmingham airport at a much more competitive rate with Europcar. They have a large fleet of vehicles for you to select from. You have multiple options from economy to luxury models to suit your needs. Europcar also provides promotional offers and deals. You get a pickup and drop-off rental service at the Birmingham airport.
You can book a vehicle online at www.europcar.com/location/uk. You just enter your location, pick up date & date and drop off date and time to book plus other required details to book a vehicle.
Book a car on rental picks up and drop off at Birmingham airport from a reliable car rental services provider and enjoy comforts and luxury on your journey! Read more articles on lookup.
More Related Queries:
hire cars Birmingham airport
Birmingham airport car rental return