Belfast Game of Thrones Tour: Ticket Booking Online and Group Discount
Belfast Game of Thrones Tour: Game of Thrones Tours takes you to trek deep into forests, and caves, along wild sea cliffs, across rocky beaches, and to medieval ruins in and around Belfast. The famous television series Game of Thrones was shot in Belfast and had great insight into adventurous places. Here we will discuss on tour costs, Online tickets, and Group Booking discounts.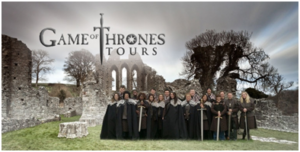 Game of Thrones Tours office is located at Suite 180, 21 Botanic Avenue, and Game of Thrones. It runs two tours, one to North of Belfast and the other to South of Belfast.
Belfast Iron Islands and Giant's Causeway Adventure
It is a one-day coach tour that takes you to locations North of Belfast and includes 2 walks of 2 km one in the morning and one in the evening. It is recommended that you wear an appropriate dress and outdoor footwear. Ticket prices are £40 for Adults and £36 for Students. For a group of 6 or more people, a 10% discount is provided. You can book the ticket online.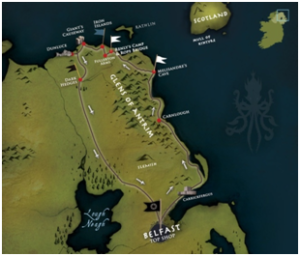 The tour departs at 8:00 in the morning from Chichester Street and takes to the Causeway Coastal Route passing through Carrickfergus Castle and Magheramorne Quarry, Castle Black and the Wall, Cushendun Caves, Cross Carrick-a-Rede Rope Bridge, Renly's Camp and Iron Islands Kingsmoot, Larrybane Chalk Quarry and location of the Iron Island, Ballintoy Harbour, Pyke Island, Giant's Causeway, the UNESCO World Heritage site, the geological marvel of 40,000 interlocking basalt columns, 16th-century castle perched on the cliff edge and partly fallen into the sea, Dark Hedges. You get back to Chichester Street at about 7:30 pm.
Belfast Winterfell Locations Trek
This is also a coach tour that takes to South of Belfast. It includes two treks of 3 km each, one in the morning at Castle Ward Estate and the other one in the afternoon at Tollymore forest. It is recommended that you dress suitable for the Northern Irish weather. Ticket prices for adults are £40 and for students £36. A group discount of 10% applies to groups of 6 or more people.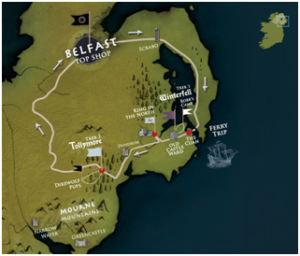 The trip starts at 9:00 from Chichester Street and takes to Ferry across 'the Narrows' which is the oldest active ferry in the world, morning trek at Winterfell, Castle Ward Estate, wooded shores of Strangford Lough which is a 15th century Tower House, Inch Abbey where there are plenty of Northern cloaks and Stark shields, helms and swords can be observed, afternoon trek in Tollymore Forest and Tollymore Forest Park.
On the journey back, it takes you through a scenic drive through the Mourne Mountains. You are back in Belfast at about 6:00 pm. Read more articles on lookup.
More Related Queries:
Belfast Iron Islands and Giant's Causeway Adventure
Belfast Winterfell Locations Trek