727 Aberdeen Timetable
Aberdeen Airport Bus Timetable : Aberdeen Airport is 7 miles from the city center. You can travel to the airport by taxi, bus or by train. You can hire a taxi from the terminal forecourt or book it via ComCab booking office. You can use bus services which are frequent, convenient and cheap. Here we will discuss on 727 Aberdeen Timetable, bus route 727, fare and stops.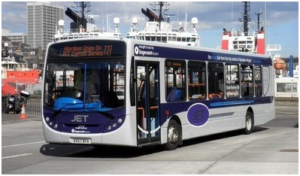 Bus Services between the airport and city center
Bus services between the airport and city centre are provided by First Aberdeen as well as Stagecoach Bluebird. The journey takes about 30 minutes in normal traffic conditions. Bus frequencies are less at night time as well as on weekends; it is recommended that you check the bus timetable.
The buses stop is outside the Aberdeen Airport only. You will see the bus stop signpost from the terminal.
Aberdeen airport bus timetable 727
Aberdeen airport bus services stops are Manor Drive, BucksBurn Police Station, Bucksburn 4 mile, Craibstone, Marriot Courtyard hotel and Aberdeen Airport terminal.
Bus services from Aberdeen airport run every 15 minutes from Monday to Saturday and holidays. On Sunday, the buses run every 30 minutes.
Aberdeen airport bus timetable 727 is available online. You can download it at www.bustimes.org.uk/services/ABAO727
Aberdeen airport shuttle service
Free bus shuttle services are offered by the airport services to move around within the airport area. There are two parking facilities and the shuttle service can pick you up from the parking to the terminal and vice-a-versa. The buses continue to and fro journey and it becomes easy to move from one place to the other within the airport.
Bus Services for longer distances
If you are to travel a longer distance, you can catch bus coach from Guild Street bus station located in central Aberdeen. You can reach the bus station from the airport by taxi or bus. Three bus operators namely National Express, Megabus and Scottish Citylink provide the bus services.
More Related Queries: