Birmingham Airport Money Exchange Rates and Currency Exchange Phone Number
Birmingham Airport International Currency Exchange (ICE) provides international travellers foreign currency exchange. The airport has 5 currency exchange locations. The ICEs provides currency exchange for over 40 currencies. They also offer discount on online click & collect voucher, ICE Traveller's Cashcard and 24hr Foreign Currency ATMs.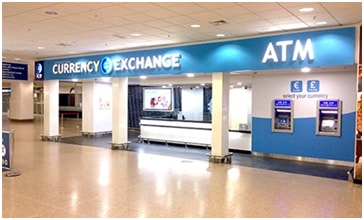 ICE is a global currency exchange operator with branches throughout Europe and in several countries including the United States, Canada, Asia, Australia and more. They have friendly and acknowledged staffs who offer quality and speedy service.
Birmingham is a business hub and great tourist attraction. Flocks of people visit the city. Birmingham airport is an international airport with great facilities and amenities. The airport bustles with travellers all the time.
ICE Opening Times
The ICE centres at Birmingham airport are located at different places for easy access to all.
ACE located before security in ground floor North check-in area opening hours are 04:00 to 21:30 daily.
ACE located before security in ground floor South check-in area opening hours are 06:00 to 18:00 daily.
ACE located before security in ground floor arrivals adjacent to car hire desks opening hours are 06:00 to 23:00 daily.
ACE located after security within the Departure Lounge opens at 04:00 and remains open till last flight.
Opening times for ICE near Baggage Claim vary.
ICE Traveller's Cashcard
ICE Traveller's Cashcard is issued exclusively to travellers and is very convenient and safe to carry by holidaymakers and business-trippers as well. With the cashcard, you don't need to carry much cash. The ICE Traveller's Cashcard is a Mastercard available in Euros, Sterling or US Dollars and accepted anywhere where the Mastercard is accepted. You can make cash withdrawals abroad with the card. You also get 1.5% cash back on qualifying purchases of over £50.
The ICE Travellers Cashcard also comes with a free backup card. You can activate the back up card in case of emergency. The card is much beneficial to frequent travellers who can lock in exchange rate. The card is issued by Raphaels Bank.
If you need any help or have any query, you can call ICE customer service at on +44 (0) 330 123 1430 or at 0203 437 072. You can also write an email to birmingham.supervisor@iceplc.com. For more information about, Click & Collect at Birmingham City Airport, you can visit www.iceplc.com/click-and-collect/.
More Related Queries:
(Visited 73 times, 1 visits today)