Curacao Weather (weer) and Best Time to Visit / Public Holidays 2016:
Curaçao is Hot throughout the year, but tempered by cooling trade winds though humidity is still around 75%. It is an island in the southern Caribbean Sea, off the Venezuelan coast. Its capital is Willemstad. The main rainy season is from October to December.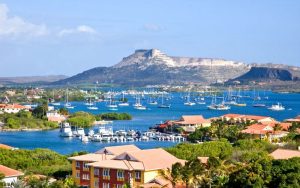 Curaçao is the largest island in the Netherlands Antilles. The annual mean temperature is 27.5°C (81.5°F) with rainfall is 515mm. It lies outside the Caribbean 'hurricane belt'. There are many excellent, sandy beaches.
Curacao Public Holidays (Vakantie) List for the January 2012 to December 2013:


1 January- New Year's Day
13 February – *Carnival Monday
6 April – Easter
30 April – *Queen's Birthday
1 May – Labour Day
17 May – Ascension
2 July – Curaçao Flag Day
21 October – Antillean Day
25 December – Christmas
Curacao Beach Resorts: